KERNERSVILLE — The first diverging diamond interchange in the Triad is set to open at Union Cross Road in Kernersville.
Crews will be closing the ramp from I-40 East to Union Cross and opening a portion of the new traffic pattern next weekend.
From I-40 it looks like any other bridge. But when you get up to the cone zone on Union Cross Road, you see there's something different.
It's called a diverging diamond interchange.
"This allows for more traffic to go through the intersection than a standard diamond interchange," said Pat Ivey, a N.C. D.O.T. division engineer.
Engineers say in these intersections, traffic crosses to the opposite side on the bridge before crossing back over.
"You're going to be on the opposite of the road, so it may feel a little different,'' said Jeremy Guy, the D.O.T. resident engineer on the project.
But the interchanges allow free flowing turns off the interstate, and eliminates the need for crossing traffic to turn left.
"It allows for those left turn movements to flow unimpeded, which gets people on and off the ramps must quicker," said Ivey.
This will be the state's fifth diverging diamond interchange. Seventeen are more are in the works.
"It's not intimidating, but it is different,'' said Ivey.
Crews plan to close the eastbound ramp from I-40 next Saturday for 24 hours to make some changes on the intersection. It's supposed to reopen next Sunday with some of the traffic changes in place.
The interchange is part of a $30 million project to widen a four-mile stretch of Union Cross Road.
The DOT expects traffic to double on the bridge in the next 15 years because of the explosive growth in the eastern part of Forsyth County. Some 8,000 new homes are planned in the surrounding area of Kernersville alone.
"All aspects of growth are hitting this area," said Jeff Hatling, the community development director of the Town of Kernersville.
"Currently we're seeing tremendous growth in our medical, logistic and manufacturing industries," said Hatling. "This interchange project is crucial in Kernersville planned growth."
Engineers say the key to navigating diverging diamond interchanges is following directions.
"People adjust to them very well, the lane marking(s) are very clear to where you simply can't be in the wrong lane, pay attention to the signs, look at where you're going," said Ivey.
"Studies have shown that it is safe, and drivers aren't as confused as one might think," said Guy.
The project is expected to be completed by the end of the year.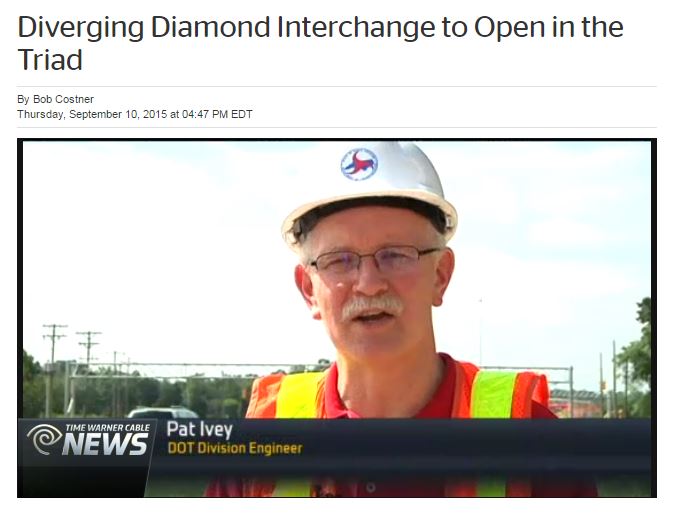 Thompson-Arthur was featured on the news, here is the link to the video story:
http://www.twcnews.com/nc/triad/news/2015/09/10/diverging-diamond-interchange-to-open-in-triad.html